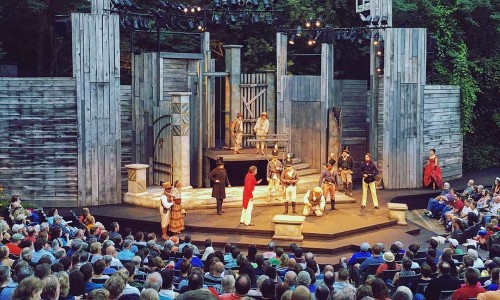 Shakespeare and the Sky: Spring Green, Wisconsin
There is a gem in southwestern Wisconsin, a brilliant emerald. The place is called Spring Green, and its character has been carved by three geniuses: Frank Lloyd Wright, William Shakespeare, and Mother Nature.
---
Spring Green is just over four hours from Fairfield, a bit west of Madison. Here, among bluffs and hills and the gorgeous Wisconsin River with its swift currents and mid-stream sand bars, Frank Lloyd Wright spent many of his most creative years. He left a number of bold signature buildings, including his family home and his school of architecture, Taliesin — many of which can be toured by the public. This is worth a trip in itself.
But Spring Green is also the home of the American Players Theatre, which has for decades staged powerful renditions of Shakespeare (and always a few other playwrights) in its unique amphitheatre carved out amidst the hills, completely open to the sky. We have made an annual pilgrimage to APT for fifteen years, and Nature herself has often made a dramatic appearance with the cast. We have seen bats flit across the stage as Macbeth fretted through his sound and fury, thunder break from the clouds as Lear shouted down his own raging storms, and just this month the rains of the Tempest poured down and cleansed the conflicted souls gathered on Prospero's island.
APT gives new meaning to "the show must go on." A few weeks ago a sturdy half of the audience (in ponchos and raincoats) and the amazingly valorous cast stayed through a constant rain to present the last two-thirds of The Tempest literally showered by Nature. Gonzala, lying flat on his back and completely immobile for ten minutes in a magic-induced trance, in full ducal regalia, had his eye sockets fill with water like tiny lakes — and never moved a muscle. Prospero's great speech near the play's end ("we are such stuff as dreams are made on...") was delivered with such feeling and power that his daughter Miranda was brought to real tears — yet no one knew for the rain dripping down her cheeks.
We learned Miranda's secret, however, because we always go to the Spring Green Café and General Store for brunch, for simple but delicious food, some casual hobnobbing with actors, and a ritual completion of our visit before making our way back to Fairfield. Almost every year we have had the chance to chat with one or two performers from the night before.
Rain, bats, thunder, full moon, or no — the theatre presented by APT is consistently outstanding. Shakespeare's comedies have been rollicking and heart-warming, his histories bold and true, his tragedies disturbing and purifying, his romances beckoning from another world. APT caps our summer and is a highlight of the year.
It should perhaps be said that Spring Green is also home to The House on the Rock, reputed to be Wisconsin's #1 tourist attraction — an architectural marvel, perched high and jutting out over a deep valley, that has evolved into a huge and motley set of museums of strange — and some would say wonderful, some would say garish — stuff. We always drive right past this marvel, perhaps because we are snobs, perhaps to stay true to the three prime geniuses of this place of green magic.