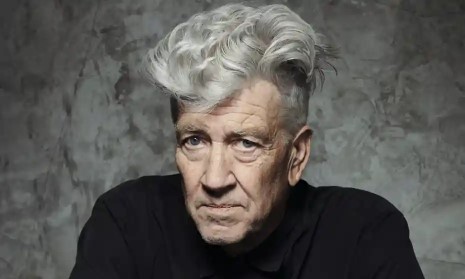 Strange But True - David Lynch
I love David Lynch — his strange films, his strange hair, his strange voice, the indescribable intensity of his personality, and his passion to bring the fruits of meditation into the educational system.
(These two essays - from 2006 and 2008 - dwell, in part, on the unexpected alliance between Lynch and the Transcendental Meditation organization. John Hagelin and Bevan Morris, mentioned below, are two of the most visible leaders of the TM movement worldwide. Fred Travis is a neuroscientist who studies the effects of meditation on the brain and consciousness.)
---
When you hear the name David Lynch, you can be sure that the word "strange" will not be far behind. Perhaps accompanied by an amazed whistling sound.
It is not that David Lynch the person is necessarily strange. In fact, according to the actors, writers, friends and crew members interviewed in the film Pretty as a Picture: The Art of David Lynch — shown at the Fairfield Art Walk Film Festival in February — he is "normal", engaging, and delightful. In interviews he comes across as affable, creative, both exuberant and relaxed. He is reputed to be an Eagle Scout. What is passing strange, though, is much of his work. Films like Eraserhead, Blue Velvet, and Mulholland Drive establish Lynch as a true master of the bizarre. Drawn to the dark side, the dangerous, the mysterious, the inside-out, he delights in what others tend to hide from or shun; he lovingly revels in how disturbing life can be.
Pretty As A Picture, a documentary that covers his films, paintings, and other work through 1997, includes the artist's enthusiastic accounts of some creations that are too outrageous and organic (in a composting kind of way) to be detailed in this family newspaper. Suffice it to say that he has given us performance art pieces where armies of live ants do the performing on decomposing, protein-rich collages.
What a likeably demented artist this is, how attractively disconcerting.
But what I am most amazed by is the fact that David Lynch has become, over the past year, the most prominent spokesman in America for the TM movement. He has crisscrossed the country with John Hagelin and Fred Travis, speaking to tens of thousands at major campuses and other venues. Today, he receives lead billing for a major conference to be held at Maharishi Interntaional University (MIU).
When I learned TM in the early Seventies, and first became familiar with the attendant vision of the development of consciousness, I was concerned, I must admit, about a potential homogenization of individuality. The rise of "spontaneous right action" would certainly replace "spontaneous wrong action", which would cut out a good proportion of human diversity right there. Fair enough, I mused, as long as all that stuff that gets lost is really "wrong". But I feared we might also start to spontaneously eliminate the strange and the different (call that "spontaneous weird action"), making for an ever-shrinking middle ground of similarity — where everyone, say, would end up wearing the same colored suits, using the same expressions, and holding the same beliefs.
But here we have this amazing blast of fresh air. If a man like David Lynch can share a hundred podiums with John Hagelin and Bevan Morris, if he can boldly and unassumingly be who he is in his personal and creative life (as strange and beautiful as he wanna be), I can believe that we have not turned our back, even at the highest levels of the TM movement, on the furious light of creative individuality.
---
A followup: The Amazing Mr. Lynch, after another rousing "Lynch Weekend" at MIU
---

Riddle me this: How has David Lynch become the poster boy of the TM movement?
Here is an artist who has created some of the most psychologically bizarre films of all time, an artist who delights in darkness at least as much as light. And yet he holds the place of most honored guest, world-traveling spokesman, fountain of wisdom on the creative process, and revered benefactor of Maharishi International University, Maharishi School, and the whole project to bring meditation into education around the world.
The TM organization has spent decades projecting and protecting a way of life that advises against or even excludes the kind of art that David Lynch so enthusiastically creates. At the recent Lynch weekend at the MIU campus, the only film shown was The Straight Story, the least "Lynch-like" of all his works. Imagine the administration's response if the students proposed a mini-festival featuring Blue Velvet, Mulholland Drive, Eraserhead, and Lost Highway in the Argiro Center.
Lynch was asked why he produces such disturbing films. His answer is that he simply "falls in love with certain ideas and how they can be realized in cinema." His allegiance is to his creative inspiration just as it arises, with all the diversity and contrast that entails. "If it takes a meditation or two to work through an impression" one of his films leaves in a viewer's mind, he said, "then that's how it goes..."
He also declared that if it ever came to a choice between filmmaking and meditation, however, he would choose meditation — because he finds the fruits more fundamental. He shows a sincere devotion to meditation and to Maharishi as the source of that teaching.
I truly love David Lynch — his strange films, his strange hair, the indescribably gentle intensity of his personality, and his passion to transform education.
And yet — would the people who run Maharishi School want their students to be exposed to Lynch's works? Students here can't help but see the name David Lynch on posters and banners, hear him honored as benefactor, artist, and teacher. Could they be made any more curious? Surely, many of these kids take the obvious step and get their hands on a range of Lynch videos. I do not envy the attempt to explain how these films fit in with the values of Vedic living that are constantly being extolled at Maharishi School and MIU.
The appearance of the musician Moby during the Lynch Weekend was also extraordinary. After his uncensored comments during his concerts (including some choice words never spoken before from an MIU stage), the most common reaction I heard was "that was so refreshing."
But I wonder: Have we really, as an organization, chosen to embrace this kind of diversity and individuality? Do we grant the individual the right to pursue whatever his own inner guidance leads him to explore?
Or have we instead demonstrated that, when a man of fame, influence, and financial resources offers to help us, we will open our arms to him and grant him the highest honors, for the sake of the help he can give — even if there is a baffling clash of values at the heart of the relationship? Are we magnanimous and flexible, accepting of diversity, only for those whose fame or wealth can help us achieve our goals?
I hope that the former explanation applies, and not just the latter. I hope that we are learning to be true to ourselves — learning to accept freedom of expression and lifestyle without fear that we will somehow tarnish or diminish the values we hold most dear. Any movement in this direction deserves our exuberant applause — a standing ovation, perhaps, the likes of which we always give the amazing Mr. David Lynch.