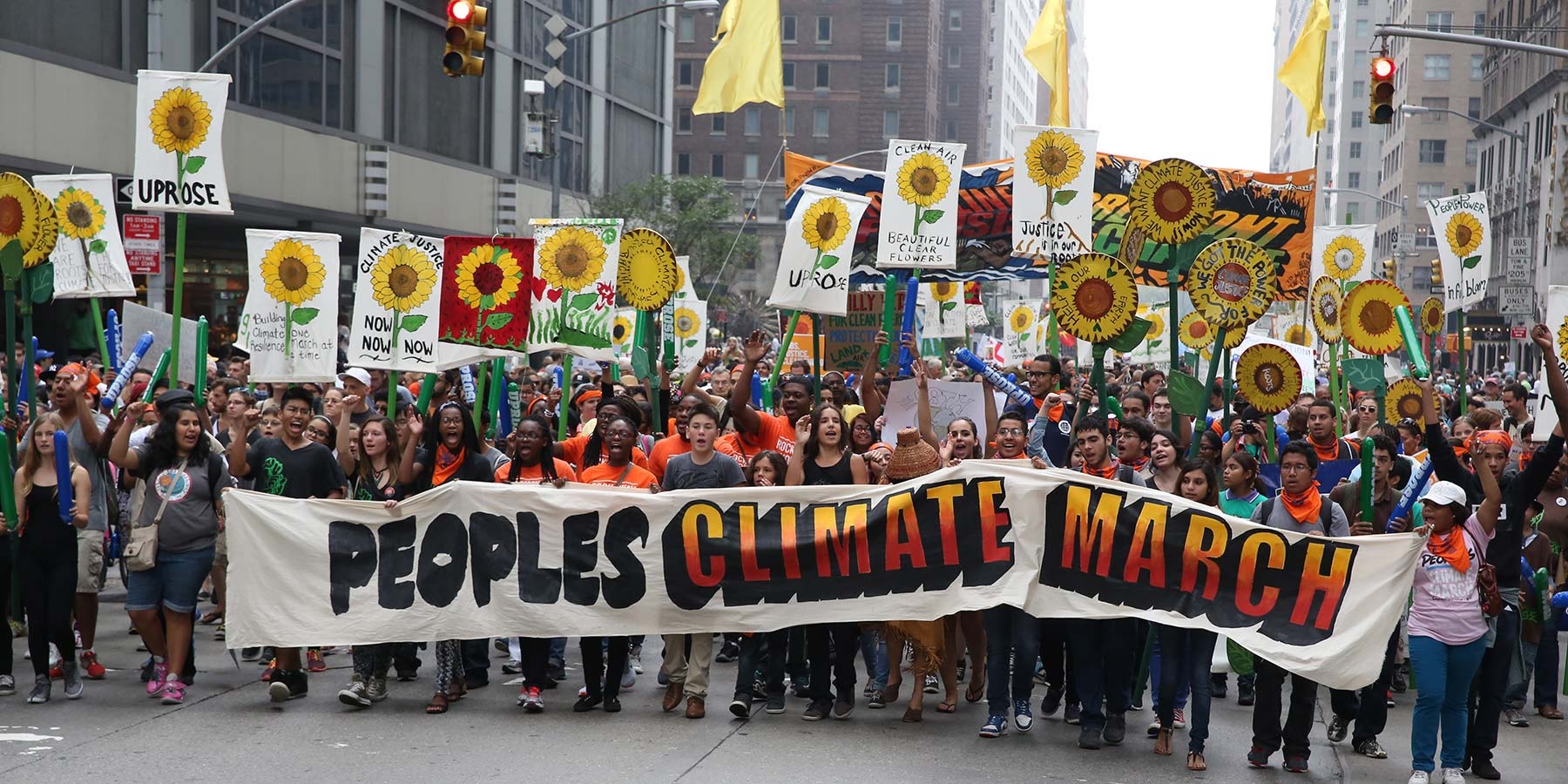 People's Climate March in New York City
A report from the largest climate protest in history
---
The People's Climate March in Manhattan on Sept. 21 shattered all expectations. Organizers hoped for 100,000 — the largest climate march in history — but as people flowed in from all directions, packing the two-mile-long staging area along Central Park West, careful tallies put the figure first at 310,000 and then 400,000.
It was a sea of banners and placards and displays, of troubadours and marching bands, of Sisters of Mercy and "angry grannies," of scientists and religious leaders and indigenous people, of students and workers and parents with kids on their shoulders — a diverse flood of humanity, of all ages and backgrounds, some chanting slogans, some joining in song. Surrounding us were not just the usual environmentalists; it was the people of America marching. The mood was celebratory, united, harmonious, but fiercely committed.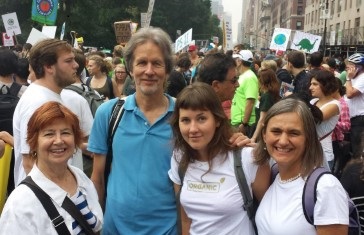 The contingent from our town: Ann Clifford, and Thom, Anjali and Diana Krystofiak
By the time we got to Times Square organizers sent out messages asking people to disperse, as there would not be enough room for so many to gather at the planned end point of the march.
We headed north for an interfaith service at the Cathedral of St John. Speakers from around the world — a white-bearded Imam, a female Rabbi, a north Indian Buddhist, a fiery Baptist, an Inuit leader — and notables like Vandana Shiva, Al Gore, Terry Tempest Williams and the Assistant Secretary General of the U.N. — all made moving personal pledges to fight against the ravages of climate change, as a spiritual obligation to the people of this planet and especially to the coming generations. We sat beneath a suspended 100-foot phoenix welded by artist Xu Bing from reclaimed materials, an astounding symbol of the world's need to rise from the ashes of its current peril and take a new kind of flight.
The next morning we joined the more radical wing of the climate movement as they prepared to "Flood Wall Street" with a few thousand brave souls all dressed in watery blue. Occupy-style techniques of organization and communication were employed at Battery Park, fired up by activists Naomi Klein and Chris Hedges. The wave flowed into the financial district, halting traffic and mooring tour buses and cars, filling the streets with chanting crowds near the bronze statue of the market bull. A 300-ft banner was unfurled, and two 20-ft inflated "climate bubble" spheres bounced over our heads. Police were there in force, with NYPD buses standing by, but they chose not to interfere until things got heated much later in the day. We left before the handcuffs came out (100 were arrested, including a man dressed in a white polar bear suit).
Finally, we attended a live multimedia drama created by Josh Fox (director of Gasland) at a Brooklyn theatre, which conveyed the dislocation and suffering that is already upon us as the climate changes. It was visceral and disturbing — but if we do not allow ourselves to feel the present pain, and the pain of coming generations, how else will we overcome the inertia that keeps us moving on this mad and destructive path? As the Inuit elder said at the Cathedral, "We have seen and heard the ice cracking all around us. Now it's time for the ice in our hearts to crack."
Immediately after the show, action steps were introduced that the audience could take as individuals. Most activists agree, however, that we are past the time when action at the individual level will be enough. Governments must be engaged, with levels of focus and commitment we have seen only at dire crisis points in history. We must require of the energy companies the kinds of changes they will never make voluntarily. We must demand, ultimately, that coal and oil be left in the ground. We must be ready to dedicate vast national resources to develop viable alternatives for all our energy needs.
Never before has humanity as a whole faced a crisis of this scope and urgency. Who, after all, will be able to look their grandchildren in the eyes and explain why we did not act on their behalf, when the signs were so clear and the stakes were so high? Our challenge is to make our voices so strong, so loud, and so insistent that it will not be possible for our leaders to be satisfied with merely referring to us in speeches. We must ensure that they have no choice but to act, to answer our call with the bravest of actions.